Download Songbird for Windows PC. Songbird is an open-source music player that can be customized as per your needs.
The multimedia software can be integrated with Web 2.0 services such as SHOUTcast Radio, Scrobbling, mashTape and Songkick concert tickets. The community-contributed plugins such as Media Flow can be used to improve your Songbird experience.
Some of the features of Songbird 2.2.0 include Built-In Web Browser, Custom User Interface, Multi-language Support, Library Management, Automatic Updates, and Smart Playlists to name a few. The beta features of this software program include metadata management, portable device support, subscriptions, and album artwork.
Songbird Versions
Songbird 2.2.0 Released
Songbird 2.1.0 Released
Songbird 2.0.0 Released
Songbird 1.10.3 Released
Songbird 1.10.2 Released
Songbird 1.10.1 Released
Songbird Screenshots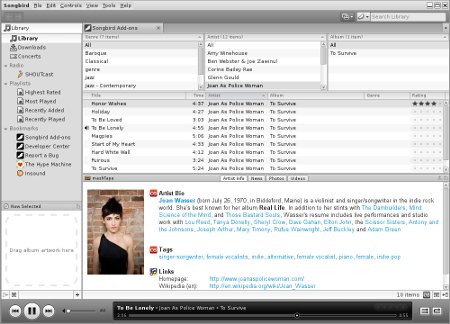 Download Songbird Links
Download Songbird for Windows PC