Download AdFender for Windows PC. Staying safe while surfing the web is now easy with AdFender! The application has the ability to filter down various types of content from the Internet.
When the content you access is filtered it blocks unwanted information from getting to the web servers and thus saves you a lot of bandwidth and time, while at the same time improves your online experience.
Enjoy Safe and Secure Web Browsing With AdFender
When you visit a website, the browser (Chrome, Firefox, Microsoft Edge, Internet Explorer, Opera ,…) usually contacts the web servers directly in order to recover the various web pages requested. With AdFender installed, your online experience will be secure and safe as this application will identify whether a request is for advertising, implanting cookies, or malware domains and block such requests from your web server to protect your online privacy.
Supported OS: Windows XP/Vista/7/8/8.1/10.
AdFender Screenshots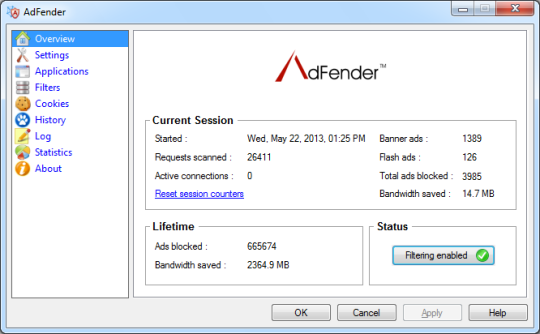 Download Adfencer Links
Download Adfencer for Windows PC