If you detest the User Interface that mobile phone manufacturing companies put on their phone, you crave for the unadulterated version of Android on your device, and you want what is the latest and greatest first, then the Google Nexus 6P is for you. Formed by a partnership between Google and Huawei, the Nexus 6P ships with the latest flavor of Android, the Android Marshmallow, and as promised by Google, will always be the first handsets to receive updates to the operating system.
The Nexus 6P ("P" stands for Premium) has an all metal design with the 5.7-inch quad-HD display being coated with Gorilla Glass 4. The Samsung AMOLED panel used on the display results in accurate color reproduction with great viewing angles and outdoor visibility. The Ambient Display feature would let you view the time or current notifications in black and white when your phone is lying idle on the desk and you either pick it up or wave your hand in front of it. This saves battery life as the phone does not have to light up all the pixels.
It is not that you would have to worry much about the battery life of the phone. The 3,450 mAh battery will let you use the phone for the day and well into the next with general use. The Doze feature of Marshmallow allows for very good standby time, with the phone not losing more than a couple percent of battery overnight. The phone supports USB-C charging and fast charging, with the latter allowing you to charge your phone up to 60% in 30 minutes and fully in one hour. The primary camera in this phone has a 12 MP sensor with laser autofocus with larger 1.55 µm pixels which allows more light to enter than the average megapixels. This allows for excellent low-light photography.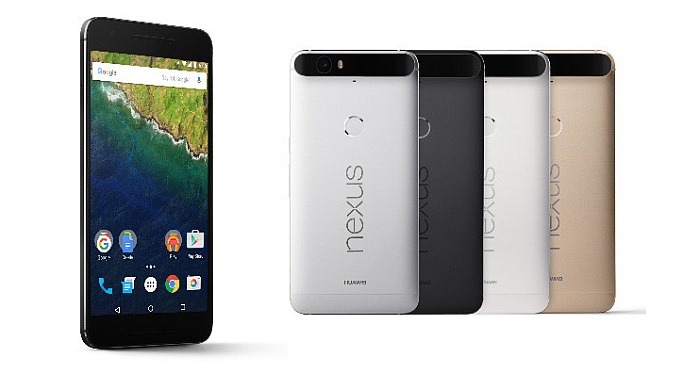 The Snapdragon 810 processor coupled with the 3 GB of RAM ensures that you experience no lag whatsoever, even when you are playing the most power-hungry games. The dual front-facing speakers on the phone pumps out excellent sound, with the listening experience as good as you could get with HTC's BoomSound. You can hear the minute details even when the volume is cranked all the way up, which makes listening to music a very pleasant experience.
After last year's disappointing Nexus iteration, Google is once again back to the top of the best smartphone list with the Nexus 6P. If you want a large phone in your hand, you want the Nexus 6P.