Download Trillian Messenger for Windows PC, Mac, Android, iPhone, BlackBerry and Linux. Trillian allows you to use AIM, Yahoo Messenger, ICQ, MSN, and IRC under one umbrella. It comes with features that you cannot otherwise find in the original network clients.
Trillian Messenger supports all the standard features of these chat clients. You can do audio chat, transfer files, use buddy icons, group chat, import contacts, and so on. Trillian also supports encrypted messaging, direct connection (AIM), and encrypted messaging. It allows users to adjust the privacy settings.
Trillian does not steal your data and does not bug you with spyware, pop-up windows or unwanted software. This software also comes with Instant Lookup feature with contact alerts, history and notifications.
Trillian Messenger Versions
Trillian 5.6.0.5
Trillian 5.5.0.19
Trillian 5.5.0.18
Trillian 5.5.0.17
Trillian 5.5.0.16
Trillian 5.5.0.15
Trillian Messenger Screenshots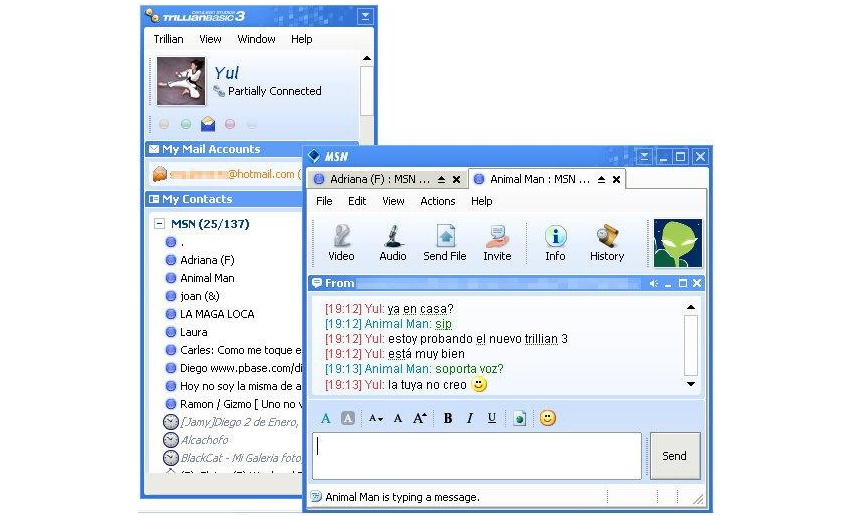 Download Trillian Messenger Links
Download Trillian Messenger for Windows PC
Download Trillian Messenger for Mac
Download Trillian Messenger for Android
Download Trillian Messenger for iPhone
Download Trillian Messenger for BlackBerry
Download Trillian Messenger for Linux