Notepad++ belongs in the group of sophisticated editors, under the support of GPL license. The program is intended to work on Microsoft Windows platform along with multiple languages support.
Notepad ++ is super speed app optimized for smaller files and oriented to environment issues. As for key features on Notepad++, we can only mention some of them: multi-view and multi-document option, drag and drop button, bookmark, highlighting zoom in/out, recording and playback.
The program is evaluated with 4-star level, takes only 4 MB on your computer and could be used on various Windows OS.
Supported OS: Win7/Win8/Win10 32 bit & 64 bit.
Notepad Versions
Notepad++ 6.9.2 released
Notepad++ 6.9.1 released
Notepad++ 6.9 released
Notepad++ 6.8.8 released
Notepad++ 6.8.6 released
Notepad++ 6.8.5 released
Notepad++ 6.8.4 released
Notepad Screenshots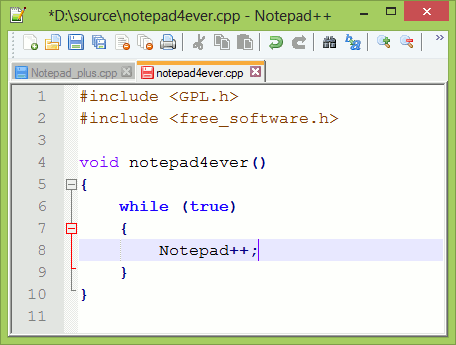 Download Links
Download Notepad ++ for Windows PC