Download Winamp for Windows PC, Mac and Android. Winamp software program supports a wide range of specialized music file formats such as MOD, AAC, M4A, OGG Vorbis, MIDI, MPEG-1 audio layers 1 and 2, FLAC, WAV and Windows Media Audio.
The software supports gapless playback for Replay Gain, MP3 and AAC for volume leveling across tracks. The multimedia software allows you to import and play music from audio CDs, with CD-Text being a potential option.
Winamp can be used to playback music and video files such as Nullsoft Streaming Video and Windows Media Video. Winamp also supports several types of streaming media files such as Internet television, Internet radio, Singingfish content, XM Satellite Radio, RSS media feeds, podcasts and Singingfish content.
Supported OS: XP/Vista/Win7/Win8/Win8.1/Win10 32 bit & 64 bit – OSX.
Winamp Versions
Winamp 5.666 (build 3516) released
Winamp Screenshots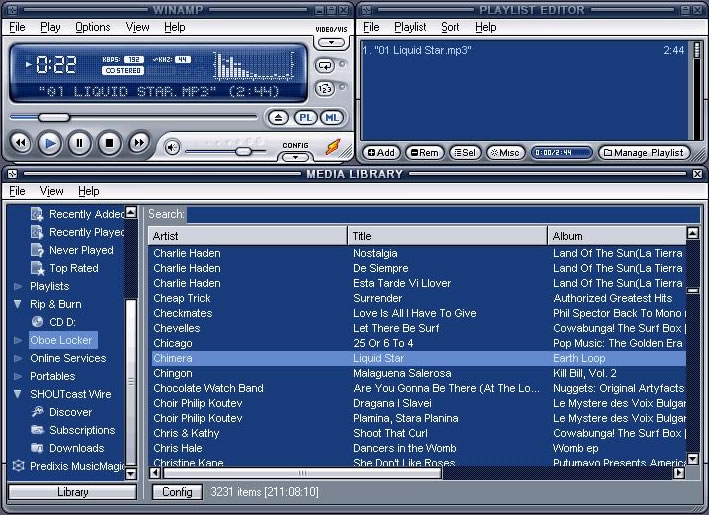 Winamp Skins
http://www.allwinampskins.com
http://www.1001skins.com
http://skinconsortium.com/index.php?page=Downloads&typeID=1
http://uploadgeneration.info/Winamp/www.winamp.com/skins.html
http://winampheritage.com/skins
http://www.winampskins.info
http:/www.customize.org
Winamp Plugins
http://uploadgeneration.info/Winamp/www.winamp.com/plugins/index.html
http://winamp.dpedu.io/
http://winampheritage.com/plugins
Download Desktop Links
Download Winamp for Windows PC
http://winamp.meggamusic.co.uk/Winamp_Download.htm (official fully patched builds)
http://www.filehorse.com/download-winamp/ (patched)
http://www.filehorse.com/download-winamp/15619/ (unpatched)
http://downloads.tomsguide.com/Winamp,0301-14.html (unpatched)
https://www.macupdate.com/app/mac/40721/winamp | dmg direct
http://downloads.tomsguide.com/Winamp,0301-14.html (unpatched)
Download Mobile Links